These emerging destinations blend retail, live entertainment and urban adventure
Tour operators continue to seek what's new, and they want their clients to be the first to experience a new attraction, district or neighborhood. In this case, the emerging trend is a new breed of mixed-use districts that blend shopping, cultural activities and live entertainment.
A preeminent example of this is Hudson Yards, which recently opened in New York City's West Side as the city's newest neighborhood. A model for sustainable and resilient cities, Hudson Yards is a vibrant center of commerce, culture and community. The neighborhood is home to more than 100 shops and restaurants, including New York City's first and only Neiman Marcus; culinary experiences by notable chefs and restaurateurs; dynamic cultural institutions; 4,000 state-of-theart modern residences; a new 750-seat public school; a 212-room Equinox Hotel and more than 14 acres of public plazas, gardens and groves. "
"We have all the ingredients of a must-visit destination with world-class cultural institutions, over a mile of shopping and dining, one-of-a-kind experiences and connections to High Line and the largest public open space created in New York City since Central Park," said Stacey Feder, Chief Marketing Officer, Hudson Yards. "Whether it's a business traveler looking for a place to spend a few hours between meetings, a couple having a romantic evening out, a culture seeker, wellness enthusiast or a family searching for a full day of entertainment, Hudson Yards is a place where visitors will always discover something new."
Another district in this emerging model that international travelers should consider is Fifth + Broadway Nashville, which opens in the fall of 2020. Located in downtown Nashville at the site of its former convention center, Fifth + Broadway Nashville is introducing a new level of shopping experience specifically designed with the visitor in mind and will also cater to the needs of the tour operator. "To enhance downtown Nashville's offerings beyond the popular honky-tonk bars on Broadway, our new project was designed to seamlessly become part of the fabric of the Music City, expanding what is possible and available to all," explained Hillary Crowe, Vice President of  Culture + Marketing for Brookfield Properties. "Besides the Museum and stellar shopping, there will be culinary experiences with a Food Hall with chef-driven outlets, wine tastings, local eateries, a Rooftop Terrace overlooking Broadway and more."
In addition to the reinvention of the shopping destination, tour operators are looking at new ways to partner. Because today's new shopping destinations offer more than traditional malls, centers have become multi-use districts. Brookfield Place NY's Tourism Manager Karen Ehrisman explains, "We start off with a tour that will provide our guests with an overview of the experience that awaits them, including art and culture activations, marina activities such as sunset cruises and sailing lessons in addition to the luxury shopping.
Another forward-thinking shopping operator in this mold is Macerich, which hybridizes shopping, dining, and entertainment experiences. According to AVP of Tourism, Kate Birchler, "We're excited to offer attractions including the Cayton Children's Museum at Santa Monica Place; Wonderspaces at Scottsdale Fashion Square; The Void at Tysons Corner Center; and major art installations throughout Fashion Outlets of Chicago. It is an exciting 'experience-forward' mix that adds energy to our centers."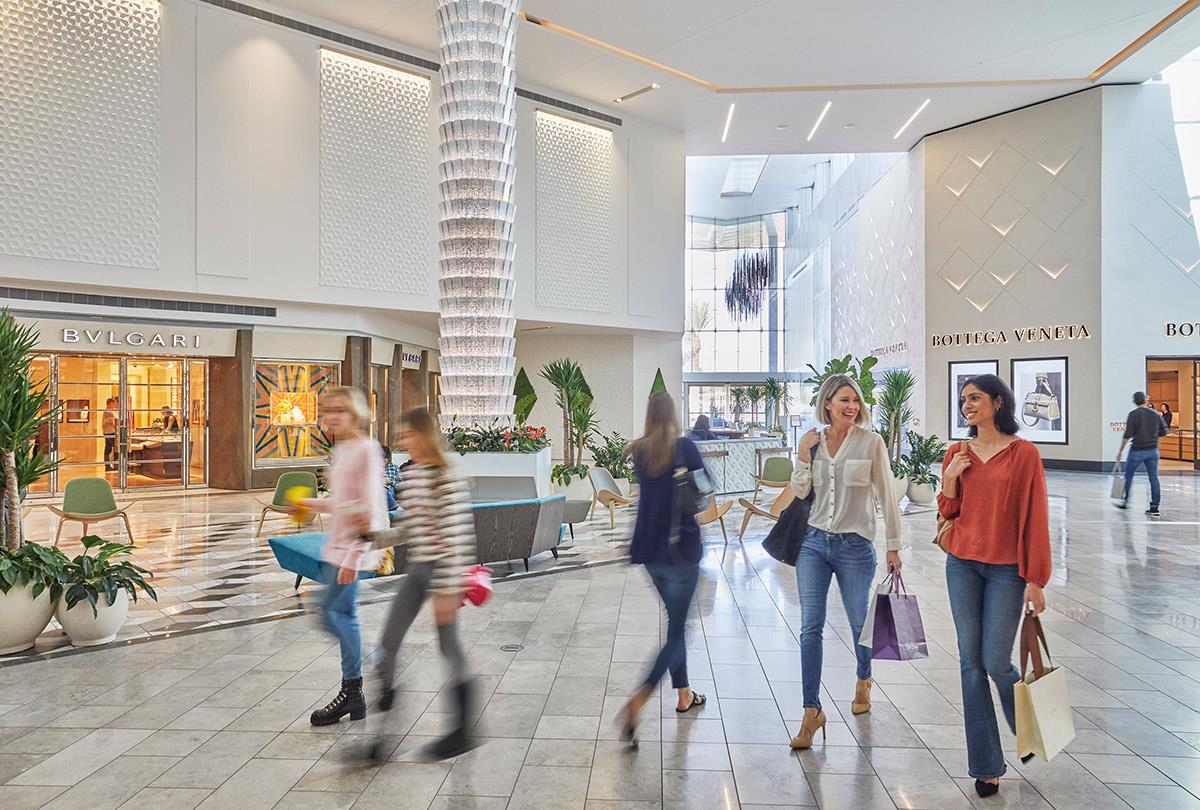 To effectively communicate their experiences to the tour operator, Simon has produced a first-of-its kind travel shopping video series that features 10 California properties. Videos feature premium retailers, unique features and dining experiences all within the context of where these centers fit into the travel itinerary and packages.
Looking to experience multiple sites without the logistical hassle? Alliances remain a popular platform for the tour operator because it provides them with access to multiple destinations while working with just one contact. Launched in 2016, the USA Luxury Shopping Consortium targets those tour operators who are interested in enhancing their packages with unique luxury experiences provided by any one of a collection of 10 member shopping destinations. Because of their ability to curate luxury custom experiences for the tour operator to include in packages, they were awarded Virtuoso's 2018 "Most Innovative Alliances Partner Award.
Shop America Alliance (SAA) also continues to provide creative and unique packages for the tour operator to sell. According to SAA President Rosemary McCormick, "We challenge our members to continue to innovate and seek special experiences while creating their packages. The more unique and experiential, the more likely the tour operator will be motivated to market to their clients."
There are nearly innumerous shopping opportunities for inbound travelers who want to experience the best of American retail. Partner with your shopping center contacts by meeting up with them at trade shows, explain to them what you want, and you will be able to provide your clients with an incredible array of new experiences.
By Carolyn Feimster