Leading inbound tour operators and DMCs discuss trends and opportunities in the Pacific Northwest
he International Inbound Travel Association's Summit, the premier one-on-one appointment marketplace for inbound tour operators and U.S. travel suppliers, drew 175 attendees to its annual three-day event.
This marks the first time the event was held in the Pacific Northwest, thanks to the host destination Travel Portland and the state's office of tourism. "Travel Oregon was honored to participate in the 2018 IITA Summit hosted by our partners at Travel Portland," said Lisa Itel, global sales manager for the state tourism marketing agency. "The opportunity to host the opening reception allowed our statewide partners the chance to market themselves and continue to build Oregon awareness with international travel buyers." By all accounts, Portland knocked it out of the park.
The conference was held at the historic Embassy Suites in downtown Portland. Built in 1912, the predominantly all-suite hotel combines original architecture and features with modern comfort, and it's the only Embassy Suites that's a part of the prestigious Historic Hotels of America.
[one_half]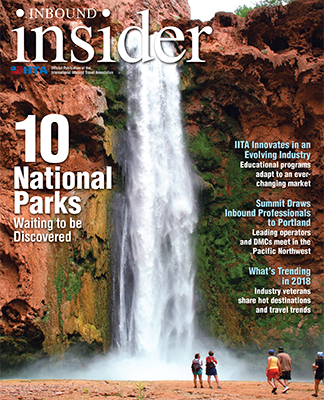 [/one_half]
[one_half_last]
[/one_half_last]
Quality Educational Sessions
The association places immense value on its educational sessions, and this year was no exception. An operator-only forum—Shaping the Future of Inbound Travel—featured an open discussion between peers about the state of inbound travel to the U.S. and the issues confronting the industry. With dynamic changes in business models, technology and distribution channels, 35 operators tackled challenges in order to better serve the inbound community.
Keynote speakers at the event included Kelly McGuire, SVP, revenue management & direct marketing at MGM Resorts. McGuire discussed how hoteliers and other travel businesses can survive and thrive in the digital economy by leveraging big data and analytics and provided tips for navigating the evolving marketplace. In another keynote, Mark Brown, economist from the U.S. Department of Commerce, examined the inbound tourism forecast from the leading source countries and forecasted "up-and-coming" sources of leisure travelers to the United States.
"IITA was an excellent conference with many great presenters and opportunities to connect," said Rosemary McCormick, president of Shop America Alliance and the U.S. Cultural & Heritage Tourism Marketing Council.
Hundreds of One-on-One Appointments
The one-on-one appointment sessions featured 10-minute tableside visits and business card exchanges where operators and suppliers sat down to discuss business opportunities. "At IITA Summit, we get in front of several international inbound operators that we otherwise may not have had the opportunity to meet and network with," said Floy Kennedy, director of travel industry sales for the Colorado Springs CVB.
Operators agree. "It's one of the most beneficial shows Bonotel attends each year," said Elliot Calloway, director of contracting and brand partnerships at Bonotel Exclusive Travel. "It provides an engine to learn from peers during seminars and breakout sessions but also provides the one-on-one appointment time to develop and continue business relationships."
With a successful event under its belt, the group is looking forward to Savannah in February 2019.
-Jeff Gayduk